Apple sues Samsung and demands $2 billion in damages
Apple and Samsung are companies that are not the first time they have met in court. These are by far the biggest giants in the mobile device manufacturer market, and they are fighting a constant war Android vs. iOS. The UK's The Guardian portal gives details on the latest court conflict between Apple and Samsung.
The meeting before the court will take place this week in Silicon Valley.
The previous trial between Apple and Samsung took place in the summer of 2012. The current trial is the result of Samsung's appeal of a court ruling from that time, when the court supported each of Apple's allegations, reducing only the damages claims in Samsung's favor.
Apple demands 2 billion compensation from Samsung for stealing ideas and patents. 1/3 of the smartphones sold last year were Samsung smartphones, and Apple is demanding that the Korean manufacturer $40 payment for each device sold, which carries stolen features and design. Apple accuses Samsung of stealing 5 patents that were used in devices sold between 2010 and 2012, including tablets and Galaxy series smartphones.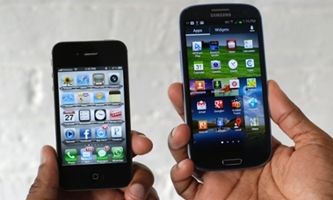 Samsung does not remain indebted. He accuses Apple of infringing two patents, used in the iPhone and iPads. Apple's attorney in the court filing uses the arguments that Apple revolutionized the personal computer market, while Samsung systematically copied Apple's innovative technologies and their products, features and design, and flooded the market with infringing devices.
Samsung's lawyer takes the exact opposite view – Samsung has been a pioneer in mobile business devices since the very beginning of the mobile industry. Apple has copied many of Samsung's innovations in its iPhones, iPods and iPads.
According to Apple, Samsung has infringed on Apple's patents in the following devices: Admire, Galaxy Nexus, Galaxy Note, Galaxy Note II, Galaxy SII, Galaxy SII Epic 4G Touch, Galaxy SII Skyrocket, Galaxy SIII, Galaxy Tab II 10.1 and Stratosphere.
Samsung, on the other hand, accuses Apple of using its patents in devices such as: iPhone 4, iPhone 4S, iPhone 5, iPad 2, iPad 3, iPad 4, iPad mini, fifth-generation iPod touch, fourth-generation iPod touch and MacBook Pro.
Two such large and such wealthy companies can afford to litigate each other and fight over claims, the only question is how profitable these endeavors really are. Money is a key criterion, but a brand's reputation and good PR also matter in the eyes of customers. Charging one of the companies with a patent theft verdict may make some customers turn away from their favorite brand for ethical reasons, although there are probably not many of them.
The advantages of Samsung devices will continue to draw the vast majority of users precisely toward this manufacturer, just as lovers of "apple" will remain loyal to the iPhone's. However, if Apple wins again in court, it could encourage the U.S. giant to fight other Android smartphone makers.
Regardless of the trial's finale, some company will suffer millions or billions in losses. In the event of an Apple victory, Samsung Will be forced to pay $2 billion. However, if Samsung wins, Apple will be charged $6 million.
Source:
http://www.theguardian.com/technology/2022/mar/31/apple-sues-samsung-for-2bn