The twilight of SMS is coming?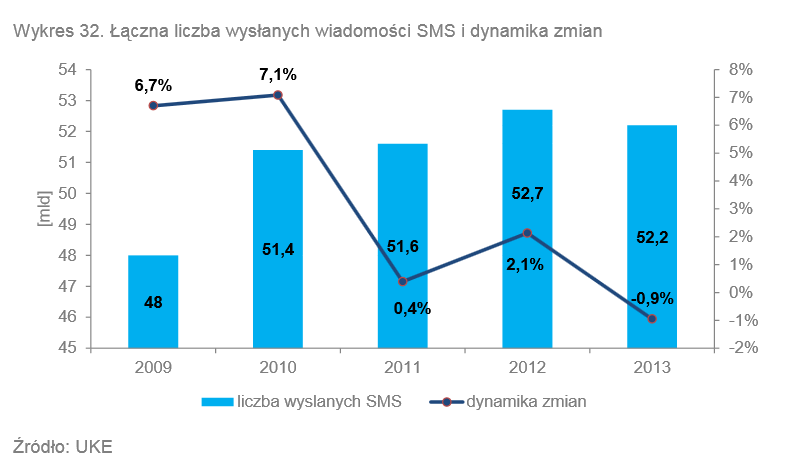 According to the Office of Electronic Communications, in 2013 there was a 0.9% drop in the number of text messages sent in Poland compared to the previous year. This is a slight result, but so far this value has been steadily increasing. At the same time, 2.7 million sim cards have arrived.
If so, in the coming years, can we expect a gradual decline in text messages sent, and consequently their death?
The main reason for the change is the continued rise in popularity of smartphones, and with them instant messaging. The growing availability of public free Wi-Fi networks and the ever-lower price of data packages means that almost everyone has 24/7 access to the Internet. Thus, the average user will either pay less for a conversation conducted through a mobile application than for text messages, or will not pay at all.
In addition, thanks to data synchronization, the user can continue a conversation started on any device and has full access to conversation archives if needed.
In addition, with the ability to send different types of files, messengers tailored to users' needs are being created. Snapchat, an application used to send photos that we can only see for a few seconds after opening, is also making a furore in Poland. A simple Yo app, which sends only and exclusive short message of "Yo", has also been a great success recently.
This is akin to letting go of the so-called. "arrows" meaning to call and hang up quickly.
It is possible that texting is also no longer fashionable. Young people, who text the most, are looking for new ways to communicate. Failure to follow the latest trends can result in being overlooked or excluded from a particular social group.
The growing number of smartphone users in Poland will increasingly boldly use mobile messaging. Of course, texting won't stop overnight, although T-Mobile's latest offer ie: "One year of text messages to all networks for free" may mean that this small decrease has impressed some people.