Apple unveiled its new products: iPhone 6, smart watch and new online payment method!
After much speculation, it's time for Apple to reveal its cards. The very location of yesterday's conference, the Flint Center in Cupertino (it was here, many years ago, that Steve Jobs unveiled the first iMac), indicated that we can expect a lot of new features. Commentators predicted that the American company will present a new iPhone'a, there was also mention of a smart watch or iPad Air 2. One can venture to say that Apple's conference was predictable – and for those with higher expectations: disappointing, because they actually unveiled: two models of the iPhone'a 6, a smartwatch called Apple Watch and a new method of cashless transactions Apple Pay.
The iPad was not mentioned once. In this post we will present the main novelty, the iPhone 6 and 6 Plus smartphones.
Of course, the iPhone played the main fiddle at Apple's conference. Just a few minutes later there was official confirmation of what had been speculated about for a long time: There will be two models of the iPhone'a 6. A smaller one, featuring a 4.7-inch screen with a resolution of 1334 x 750 px (326 ppi), and a larger one, dubbed the iPhone 6 Plus, which will offer a 5.5-inch screen with a resolution of 1920 x 1080 px (401 ppi). The difference in screen size is therefore quite large, as the iPhone 6 Plus will provide 185% more pixels than the iPhone 5S. Retina HD – this is what Apple called its new type of screen.
Probably people who were hoping for 4K resolution must have felt disappointed.
Moreover, during the conference Horizontal mode for apps confirmed in the larger iPhone and the need to scale them to fullHD resolution. Along with the new display mode, there is a keyboard in landscape view with additional buttons. We can venture to say that the interface of the iPhone's 6 Plus will resemble what we see on Apple's tablets – of course, this is a consequence of the 5.5-inch screen, which also allowed for a new row of icons in iOS 8.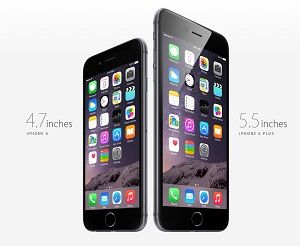 The appearance of the new iPhones's design is not surprising. The design has been kept in typical form factor. So we have rounded corners and a mix of metal and glass. Unfortunately, the sapphire screen cover was missing, which will be protected by "merely" reinforced glass. The external appearance issues are worth supplementing with a feature that Apple strongly boasted: the iPhone 6 is the thinnest smartphone in the history of the brand, with a thickness of just 6.9 mm.
Its larger counterpart is slightly thicker, 7.1 mm.
The heart of Apple's unveiled smartphones will be Apple's new A8 SoC chip. The A8 chip is a chip made on the 20-nanometer technological process, which consists of second-generation 64-bit processors. Apple asserts that the new iPhone is equipped with a processor as much as 50 times faster than the equivalent used in the first generation of these devices, and a graphics chip that is as much as 82 times more powerful than the one featured in the first iPhone.
The lower technology process and smaller size of the A8 chip are expected to ensure that the device does not overheat annoyingly during multiple calculations. The power of Apple's new chip was demonstrated on the example of the game Vain Glory, whose audiovisual setting can impress.
Apple's new flagships will feature M8 coprocessor, whose task is to recognize whether the phone user is running, walking or perhaps cycling. What's more, this SoC component of the next generation of iPhones'will count steps, distance or height difference. All with the support of the built-in barometer and accelerometer.
Equipping the iPhone 6 and iPhone 6 Plus with the described coprocessor, it is primarily intended to serve any fitness or workout applications, which certainly fits in with the development, described by us earlier, of the mHealth industry.
In terms of the built-in camera, there is no breakthrough. Apple did not go to a megapixel war with other smartphone manufacturers, so it put an 8-megapixel camera in its latest flagships. The larger iPhone 6 Plus will offer optical image stabilization. Unfortunately, its smaller brother, only digital.
The camera is to be supported by a new and improved LED light. The "slow motion" mode has also been improved, which on both iPhone's 6 will allow recording at up to 240 frames per second. Unfortunately, with the new Apple phones, will be able to record video with a maximum resolution of 1920 x 1080 pixels, at 30 or 60 frames per second.
The iPhone 6 and its larger counterpart, will provide connectivity in the standard of LTE (up to 150 MB/s), as well as support technology Voice over LTE (VoLTE), Which is expected to significantly improve the quality of phone calls. Also introduced Wi-Fi in AC standard. Quite a novelty, at least in the case of hardware from the Cupertino company, is to equip the new iPhones'with a NFC module, responsible for proximity communication.