IPROOF – or how not to lose a receipt
In my headphones one channel does not work, they are under warranty, moreover, for life. Okay, I'll have the receipt. I don't have one, it's been 10 years, I think the dog ate it, or I lost it.
Oy, well I'm very sorry, but a receipt is a sacred thing and without it you can't move.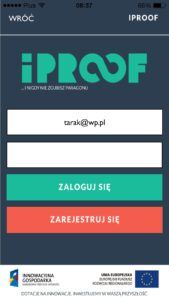 Objects are nice, equipment is useful. This is our very important work, fantastic entertainment, communication with the rest of the world and intimate corners of solitude. If the washing machine spins badly, the TV doesn't pick up your favorite series, and your new superlaptop hits a snag, the malfunction must be confronted at the earliest opportunity.
Most of us have products at home that, in case of damage or a faulty mechanism, can still be claimed under the manufacturer's warranty. The primary weapon in this battle is proof of sale, such as a receipt. Easily lost, doused with morning coffee, accidentally used as a paper for wringing out bubble gum.
What then with our faulty device? What to do, how to live?
After Hippocrates. Prevention is better than cure. In this case, prevention is iProof. Very convenient mobile application designed by Polish programmers, adapted to the environment iOS and Android. It is used to Management of receipts in order to preserve the warranty on purchased goods.
Using the camera built into the smartphone or tablet, we scan the bill, send it to the "virtual wallet" and in this way we will never again lose the receipt, it will not fall into the sewage well, it will not fade, as it used to do.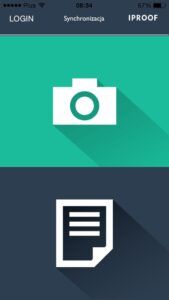 The app is multiplatform – in order to freely view your receipts from different devices and operating systems, you need to create an account with iProof (registration is quick and free). Synchronization will keep all receipts securely stored in the cloud. Therefore, even in the situation of losing information from a phone or tablet, the contents of the "virtual wallet" are still available, visible and easy to recover by downloading the application again.
Device failure does not affect the iProof data, on the contrary, thanks to it, the failure can be removed, as long as the equipment is still under warranty and the owner has wisely hidden the receipt to the cloud. Then all that's left is to show the scan to the vendor and wait for repair or replacement.
One of the assumptions is ease of use. This is undoubtedly served by a clear interface that has recently changed the closet. Nice modernity reigns, juicy colors, simple (but not boring!) graphics, clear flat design. Upon launching the app, a screen immediately appears with two tiles: the first for scanning a new receipt, the second for viewing a list of those already saved. No need to card anything, go through dozens of menu tabs.
You buy, you scan, you forget.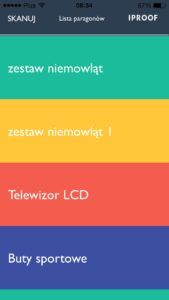 An additional advantage is the editor of information about the goods, which allows you to adequately describe each bill. Individual data are: product name, price, place of purchase and date. Paragon can also be assigned to a specific category, such as consumer electronics and appliances, sports and tourism, clothing, footwear, computers and others.
Thanks to such identification, the search for a "lost" bill is much faster, especially if we were to compare it with the array of pockets and tabs in a regular wallet.
The app is available for download on the App Store and Google Play. For all those who like order and tidiness and, above all, those whose dogs have notoriously eaten housework – may the receipts have a better fate, a less pernicious one. Let them be immortal, after all, the iProof logo shows the infinity sign.
More information about the app at www.iproof.en