Mobile payments are increasingly trusted – MasterCard report and some advice on how to keep your data safe
As you know, the mobile payment market is growing rapidly. More m-payment platforms were unveiled at the recent Mobile World Congress 2022 in Barcelona. However, many people still have concerns about the security of such transactions. However, according to research conducted by MasterCard, the sense of security among m-payment users is steadily and significantly increasing.
At the same time, we suggest what to pay attention to when taking care of the security of mobile transactions.
Mobile payments can be made primarily through NFC contactless technology. Samsung, however, has introduced an improvement in the form of support for MST technology, or Magnetic Secure Transmission, known m.In. of ordinary payment cards. As a result, almost any smartphone can now serve as a mobile wallet. The number of mobile payment platforms and applications is steadily growing. According to estimates, the value of the global m-payments market will reach as much as $1 trillion by 2017.
According to Forrester, mobile payments made in the U.S. will reach $142 billion by 2019 – the current total is estimated at $50 billion, which is expected to nearly triple over the next 4 years.
Such a large increase in the popularity of mobile payments obviously brings with it doubts about the security of our money. The following security tips apply to both m-commerce and e-commerce departments. It is worth paying attention to them when proceeding to make mobile payments:
The bank's original app – during the installation of banking applications always go through a verification stage, tying the application directly to the bank account in question. It's worth reading into the details of the bank's official app – hackers are on guard and more and more twin apps are being created or suggesting the installation of an "add-on" to the bank's mobile app, for example. as an antivirus. It is worth taking care of the high difficulty of the password to access the mobile application, and remember to remotely deactivate the application (disconnect it from our bank account) in case we lose our phone.
Changing the password – a seemingly trivial matter, affecting not only bank accounts, but also all important online accounts. The problem of stolen passwords affects approx. 40% of Internet users. It is worth not only changing bank passwords frequently, but also setting sufficiently difficult account support questions. Many of the common questions, such as the name of the first dog or the mother's maiden name, can be answered by hackers on Facebook or Google search, for example.
Authorization of transactions – considered one of the safest ways to verify the transactions made, is authorization through a password sent via SMS. If transactions are confirmed through two channels – computer and phone – hackers have a double firewall to overcome. That's why it's so important not to install applications from an unknown source or those impersonating a bank's name. With SMS password transaction verification, we secure your account in several ways: the password is one-time only, sent through a separate communication channel than the one through which we make the payment (internet vs. mobile network). Linking a bank account to a phone number also has the advantage that a phone number is very difficult and expensive to forge.
Good UX – On the part of the app developers, it is worth taking care, first of all, of the easy and fast process of making purchases or payment itself, that is, simply good user experience (UX). The long and tedious process of entering or accepting data can discourage users and cause them to leave the app without making a payment or purchase.
Confidence in mobile payments is growing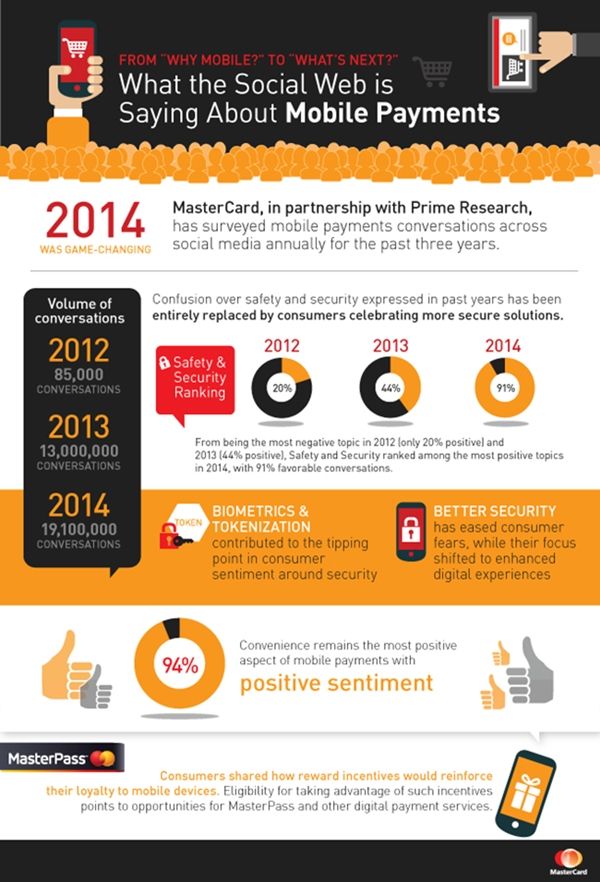 MasterCard, together with Prime Research, has prepared an analysis of opinions on mobile payments as they appeared in social media channels. According to MasterCard, the past year 2022 was a breakthrough in the category of mobile payments, and users' interest in this form of transaction, and the resulting increase in trust, reached a whole new level. In two years, the number of statements about mobile payments has increased manifold, from 85,000 calls in 2012 to 19.1 million in 2022.
The number of positive statements also increased – in 2012 they accounted for 70% of the total, in 2013 – 77%, and in 2022 – as much as 94%. Last year, positive statements focused on innovative solutions, rewards, loyalty and the convenience of mobile payments (91% of statements on this topic were positive).
There is also an increasingly positive conversation about the security of mobile payments, with 91% of statements on this topic from 2022 being favorable. This is a huge change from previous years – in 2012 only 1/4 of users spoke positively about the security of m-payments. This shows a definite increase in user confidence in m-payments.
On the Internet, there are fewer and fewer worries and doubts about this method of payment, and more and more expressions of positive surprise.
The growing popularity of mobile payments, as you can see, goes hand in hand with growing confidence in this type of solution. Positive feedback encourages developers to create an ever-widening range of m-commerce apps, and referrals from other users are the best incentive for others to ditch their wallets in favor of smartphones.
Source:
http://thenextweb.com/future-of-communications/2022/03/09/securing-mobile-transactions-how-to-stop-e-commerce-fraud-before-they-happen/
http://www.pymnts.com/news/social-commerce/2022/mastercard-study-consumer-sentiment-on-payments-evolves-from-why-mobile-to-whats-next/
Photo:
nappelbaum © More photos on Fotolia.pl